There's an App for That
PQ-365
Pride Mobility and Quantum Rehab have launched PQ-365, a new one-stop app for wherever you go, whenever you need it. PQ-365 includes everything Pride and Quantum-related, designed for providers and clinicians. The free, easy-to-use app helps busy professionals stay up to date with the latest information from Pride and Quantum and access all our content in one quick and convenient place.
The app has a ton of cool features, with the newest ones as follows:
A serial number and order search
The serial number is shown in the order tracking information
Links are created to part numbers in the serial number lookup for a description of each part
A voice search
An image share option
Illustrated Parts Breakdowns (password protected)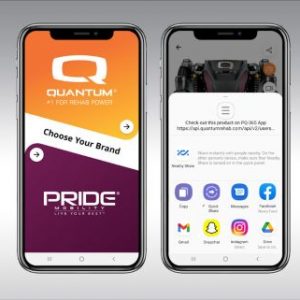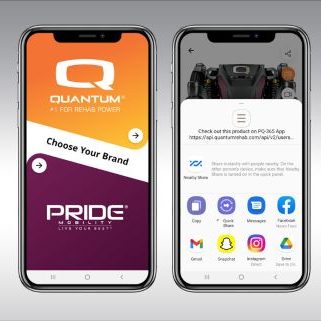 Other features include a quick-search option, 360-degree product views, fillable order forms, push notifications, consumer testimonials, news, events, specifications sheets, brochures, owner's manuals, basic operating instructions, and more. Users receive an initial tutorial option upon opening the app for the first time. Additionally, password-protected installation instructions and technical videos are available (passwords can be obtained by emailing marketing@pridemobility.com).
"We want PQ-365 to be a central repository for both Pride and Quantum, from order forms to technical service videos," said Kate Pencek, Senior Director of IT & Enterprise Architecture. "While it is simple and user-friendly, the app meets today's technological demands while providing a great user experience. Our goal is to continuously improve the app to meet the needs of our providers and clinicians."
PQ-365 is available for download via the Apple Store and Google Play.