The story of the Edge 3 Stretto pediatric power chair
The Edge 3 Stretto pediatric power chair is the result of your feedback! You've been asking for a true pediatric power chair. While existing Quantum power bases are compatible with pediatric seating and positioning components, the Stretto offers a narrower width that provides exceptional manoeuvring in the home, at school and on the playground.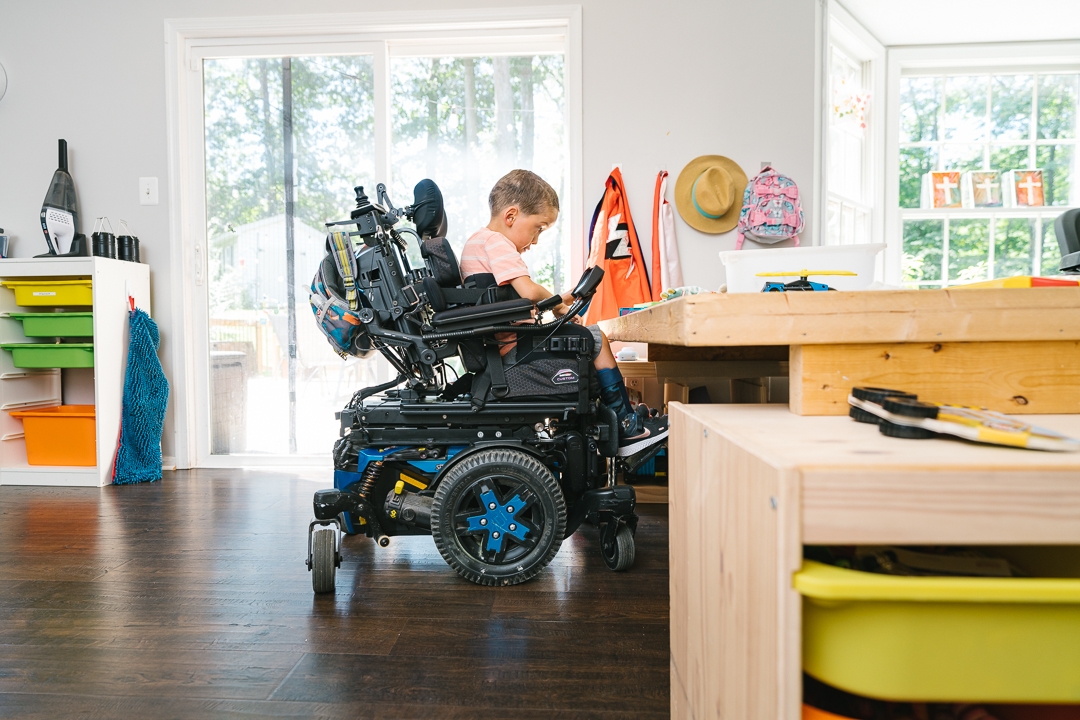 Why the Stretto?
The Stretto pediatric power chair dimensions depend on the drive wheel configuration selected. The Stretto has an overall width of 520 mm when 12,5″ drive wheels are chosen.
The Edge 3 Stretto is compatible with TRU-Balance 3 seating and positioning, offering a range of seating sizes, including children's seating. This child electric wheelchair can be customized to meet the needs of children and teenagers. Available options include power tilt, power recline, iLevel power-adjustable seat height, power articulating foot platform, Flex seating and static seating.
The Edge 3 Stretto has independent SRS (Smooth Ride Suspension), which increases shock absorption due to the shock angle on the base. Spring rates are optimized to provide maximum obstacle climbing and overall comfort. Click to learn more about independent SRS for the Stretto child power wheelchair.
Not only is the Edge 3 Stretto child electric wheelchair fully customizable to meet children's needs, but it also comes standard with convenient, cool features. The USB charging port charges electronic while on the move. From cell phones to tablets, your child can power his or her device when driving the Stretto. This power chair also comes with front and rear LED fender lights, allowing your child to see and be seen in all environments.
iLevel and pediatric power chairs
With optional iLevel on the Edge 3 Stretto, your child can feel confident with power adjustable seat elevation that raises the seat of the child-size electric wheelchair up to 12 inches. Your child can safely drive up to 5,6 km/h while elevated. iLevel technology offers patented Extra Stability Technology, which enhances stability while completing daily activities, such as transferring, reaching and grooming.
Finding a pediatric power chair near you
If your teenager or child has a medical condition that affects his or her mobility, he or she may qualify for a pediatric power chair. Please schedule a face-to-face evaluation with your child's doctor or therapist. They can perform an evaluation to determine if your child may benefit from a power chair, such as the Edge 3 Stretto.
If your child is prescribed a power chair and a prescription is written, we can refer you to an authorized Quantum provider that can assess your child's needs. A physical or occupational therapist may work with an Assistive Technology Professional, or ATP, to determine which pediatric power chair best suits his or her needs.